EMAIL SECURITY
Email Defence Protection
---
Email Defense protects your employees, customers, and business partners from cyber criminals who spoof trusted email domains. It makes email authentication easy and reliable so you can stop email fraud before it reaches the inbox.
Our Services:
EMAIL DEFENCE PROTECTION - BUSINESS+ (PER USER)
EMAIL DEFENCE PROTECTION - ADVANCED+ (PER USER)
EMAIL DEFENCE PROTECTION - PROFESSIONAL+ (PER USER)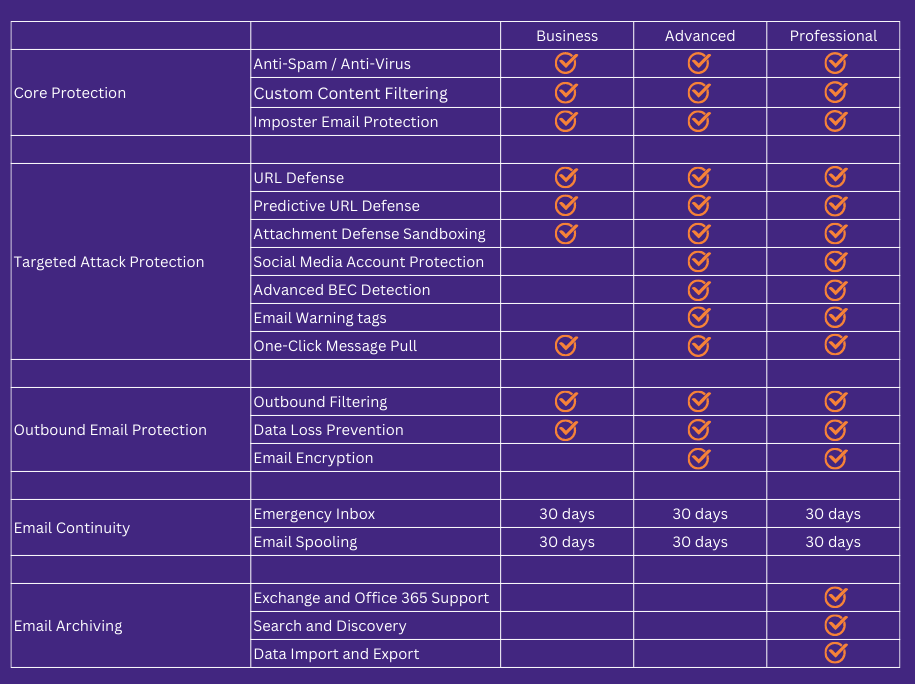 Multi-Layered Protection: Provides the same enterprise-class security and visibility used by some of the world's largest security-minded organisations. Now you can get the same protection for your biggest security risk — your people!
---
Advanced Threat Protection: Most attacks target people. They entice them to click on a link in an email or open an attachment. We leverage the advanced power of Targeted Attack Protection, our industry-leading email analysis solution, to protect your people. This unique technology provides you with advanced URL and attachment sandboxing analysis.
---
Email Continuity: Our emergency inbox gives Microsoft Office 365 users automatic access to email when Office 365 is down. It keeps business email up and running at all times.
---
Secure Email Communications: Securing emails that contain sensitive data is one of your top priorities. No one wants to face fines, bad press and loss of customer trust for losing confidential data or customer information. Email Fraud Defence encryption helps you reduce the potential negative impacts of data loss by automatically encrypting email.
---
Social Media Account Protection: We can help you with social media account protection and compliance for up to three branded social media accounts. You can choose from Facebook, Twitter, YouTube and more. We help you monitor each account to prevent account hacking and protect from spam and malware being posted on your channels.
---
Email Archiving: Makes use of the Microsoft Exchange journaling function, enabling you to securely store all internal and external email for up to 10 years. You can easily perform quick and extensive searches, save searches, perform legal holds and meet legal and regulatory requirements.
Office 365 is Microsoft's cloud-based email and collaboration platform. But you may need more advanced security capabilities beyond what's available.
Email Defence Protection provides small and medium-sized businesses (SMBs) with an additional layer of security. It protects your people while they fully leverage Office 365 and Microsoft 365 business applications.
Defending Against Targeted Attacks
Microsoft provides basic email security features with Microsoft Exchange Online Protection (EOP). It relies on traditional filtering techniques like IP reputation, volume and signature-based anti-virus scans for its email hygiene services. But you need more to protect your people against today's targeted threats, especially since email is the most reliable way for threats to reach your users. More than 90 percent of targeted attacks start with email. And 99 percent of threats rely on users to run malicious code. Email Fraud Defence for Microsoft 365 and Office 365 takes a people-centric approach. It delivers industry-leading email security for SMBs for malware-based threats like malicious attachments or links and malware-free threats like email fraud or credential phishing emails. With our enterprise-class solution, you can protect your users by adding security scrutiny that cannot be matched by traditional approaches.
Email is the #1 threat vector:
Business Email Compromise cost over $5.3b a year (since 2013)
30% of recipients open phishing messages and 12% ckick on attachments
Domain spoofing makes up the majority of all email fraud and can be prevented through email authentication
---
Benefits:
Stop email fraud and phishing attacks before they reach your inbox
Gain full visibility abd control of email sent from your organisation
Implement email authentication quickly and confidently on your domains and gateway
Extend protection to your customers and partners
If you'd like to learn more about Email Defence please complete the form and we'll be in contact.