IT Services
Email Threat Protection
---
Over 80% of successful malicious cyber attacks start with an email landing in your inbox. Talk to us about not letting your inbox be the beginning! #CyberSecurity #AskCaraTech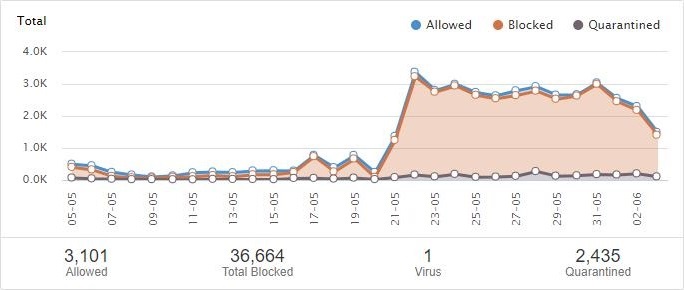 Secure the inbox, guard against threats, and protect the business and end users.
Antispam and Antivirus, Advanced Threat Protection, Intuitive Quarantine
---
Don't let the inbox be the weakest link in your company's security posture. Cara's Email Threat Protection service provides multi-layered filtering that permits legitimate email while keeping out malicious threats such as Phishing, Impersonation, malware, ransomware, and spam-type messages.
---
Features:
Adaptive, machine learning capabilities
Multi-layer filtering (envelope header, body attachments, URL analysis)
Link Protection (Time of click analysis)
Attachment assurance-quarantine and sandboxing (optional)
Message retraction for Microsoft 365 environments (optional)
Simple, yet comprehensive and flexible controls
Security information and event management (SIEM) integration
Email continuity (optional)
24/7/365 Real-time threat analysts
Phenomenal care Support
Benefits
Helps prevent security breaches by protecting a major business vulnerability
Provides strong security and defence against existing and evolving threats
Easy to optimise per business needs
Keeps employees secure and efficient by reducing unwanted and malicious emails
Simple to manage and support with Secure Cloud
---
Why now?
With increases in social engineering, board-based spam, and targeted attacks, cybercriminals are exploiting known vulnerabilities in the biggest email providers to steal any possible information. In many cases, businesses don't catch the breach, don't know how to assess the damage, or don't have the tools for remediation.
---
Why email threat protection?
According to industry surveys, 90% of threats start with email. Email Threat Protection ensures that a major business vulnerability is secure with a sophisticated and effective solution that's easy to implement and manage. Plus, as an integral part of Secure Cloud, Email Threat Protection works seamlessly with Cara's other security services. Together, they form a fully integrated platform that allows customers to create a secure, modern workplace.
On a scale of 1 to 10, how important are emails for your business?
90% of Cyber Crime starts with an inbound email. The hackers are re-investing a lot of money they've earnt from successful breaches to build more sophisticated ways to capture weak entry points to a business. An innocent employee may mistakenly open the email and it lead to costs the business thousands of pounds. We see this far to often. The cry for help after the event.
---
Email scams are as much apart of todays threat landscape as they were many years ago. The difference being that with todays sophistication the emails looks less likes fakes and the tactics to capture data are very well hidden.
Don't let your inbox be the beginning!
In the beginning of 2021, due to the ongoing pandemic the country entered into another "lock down". As you can see by the image about the amount of Malware and Phishing attacks we received increased because the cyber criminals where targeting businesses with fake support messages. The criminals were trying to lour innocent people to apply for fake business support schemes, fake legal advice, etc…
With new targeted messages you can see the increase of activity with the run up to Christmas. Online spending was predicted to be an all time high. November being the highest month with spam emails using Black Friday as another way to try and entice innocent people to enter their details to fake sites. Following on from the highest spam months, please note that January saw an increase in the number of new viruses detected.
Complete the form and we'll happily answer your questions.
---