Award-winning IT support in Macclesfield
---
We work hard to provide a safe working environment that is fun and challenging whilst keeping in line with your company's ethos and core objectives. For more information regarding our IT support Macclesfield solutions please don't hesitate to call us on 01625 615384.
I used the Cara helpdesk and once again they were proficient, helpful and professional. They dealt with my problem immediately, without any fuss and sorted me in no time. A great service and one that always delivers.
Maria Torres-Bryceland
30/10/2023
I use CARA Technology for both outsourced IT support and Cyber Security. The team are always professional, helpful and super efficient. I have called recently with some challenges I faced on my laptop and nothing is ever too much trouble. They have also helped me achieve Cyber Essentials status, the process was very simple but incredibly robust. The pre-audit highlighted areas for development and I felt so supported during the process. I would highly recommend CARA to anyone and will continue to do so to my contacts and customers. Thank you to the whole CARA team for always putting your customers first and being such an invaluable partner.
I was working remotely at home yesterday and had problems using dual screens, and with the sound on my laptop. Our IT department referred me to Cara, and Dan Braddock was able to remotely sort both issues quickly and very capably whilst I was on the phone. Highly recommended.
Davidm8 Miller
24/05/2023
Have worked with CARA technology for a number of years now and have found them to be professional and knowledgeable around IT security and are always quick to action any areas that require to be set up in a timely manner.
Cara Technology is always there to support us when we need them, from phishing emails to not being able to view attachments in emails. There's always someone available to help and the entire team are friendly and professional.
Cara Technology are very efficient and supportive. I had a problem with my frozen computer and mouse not working. I contacted them by phone and was answered immediately. I was asked to tell them what was wrong and what I had done to solve the issue. They remotely logged into my laptop talking me through what they were doing. Harrison was very polite and informative. He worked efficiently and quickly ascertained that is was the mouse that was not working properly. Within 10 minutes my computer and mouse were working again. Thank you for your quick response and efficient results to fix it.
Karoline Peach
05/05/2023
Always a swift response and excellent service from the team at Cara. They know their stuff!
Very supportive, helped to get to the bottom of the problem and continued to follow up the issue after the call due to needing further investigation.
Danielle Clarke
19/04/2023
Great support, nothing was to much trouble. I was having issues and they found a solution and help me every step of the way.
We've been really impressed with the support we've had from the team at Cara. Day to day issues are dealt with promptly and they once got us out of a real hole when our wired network failed! Highly recommended
IT support is essential to business in the 21st century; after all, it's a fact of modern life that more companies are embracing digital technology for their daily activities. Once solitary brick-and-mortar stores are now utilising technology such as eCommerce, brochure websites, or digital storage and management systems to aid their day-to-day business activities. However, whilst digital technology can provide significant advantages and benefits to businesses, it's also important to recognise the risks associated with tech and plan accordingly. Simply put, if you incorporate digital technologies into your work, you need a support solution. Otherwise, you risk the security and integrity of the data held within. Our vision is to enable our clients to gain a competitive advantage by implementing secure and high-quality IT support services.
IT systems can feel like magic when everything is working as it should. However, the frustration can be intense regarding error messages, security breaches, or just systems that aren't fit for purpose. Just think about how much digital data you deal with daily and how much of it is considered sensitive.
You'll likely interact with payment details, customer information, bank accounts, employee and client details, and more. Remember, if you store any sensitive customer or employee information on your digital systems, you must keep this data in methods compliant with GDPR and DPR regulations.
We understand that many can find these regulations confusing and complex, and that's okay. At CARA Technology, we provide IT support and security services, ensuring that your business is as safe as reasonably practicable.
---
Outsourced IT support costs – Switch your IT support provider.
Our investment in a comprehensive IT and Security infrastructure gives our clients peace of mind for an affordable monthly fee. This value is what we call our small seat at a large table philosophy. Economy of scale means that our investment in our Managed Services Platform filters down to our clients at a great value. Our managed service and support packages start from as little as £10 per user/month.
Suppose you're dissatisfied with your current IT support arrangements, either from lack of quality support, high price points, or a variety of reasons. In that case, CARA Technology has a simple switching process that transforms the stress and hassle of reorganising your IT support into a simple and easy-to-understand three-step switching process. Our switch process is so easy to follow that we take on an average of two new clients each month.
Our three-step-process is as follows:
Provide handover documentation to your existing provider
This is the 1st item
This is the 2nd item
Conduct a detailed scan of your computer systems
This is the 1st item
This is the 2nd item
Get to know your business, personnel, and company ethos
This is the 1st item
This is the 2nd item
IT company Macclesfield – advantages of outsourced IT helpdesk services
For many, the idea of outsourcing your IT is unappealing. Some would argue that in an ideal world, every company would manage their own IT in-house using their IT support team. However, did you know that outsourcing your IT to a group of specialists has many advantages compared to running and maintaining your team?
For example, to provide a high-quality IT support service, you need the skills of dedicated experts from various IT fields with a wide range of specialist IT skillsets. However, finding experienced IT staff with the relevant skillset can take significant time. Hiring highly experienced IT staff can be very costly. Finally, ensuring that your IT department remains well-equipped and up-to-date with the latest technologies can be very time-consuming. Maintaining your own in-house IT support team can be costly regarding time spent and financial investment, two precious resources that many businesses cannot afford.
As such, outsourcing IT provides a fantastic solution to this issue. When working with an IT support company, you can benefit from the experience of a diverse team of IT professionals. As outsourced IT specialists, we provide ongoing support to a wide range of businesses, which helps keep our rates low, allowing your business to save on IT support costs without sacrificing the quality of those support services. We call this the small seat at a large table philosophy.
When you choose outsourced IT services from CARA Technology, you enjoy peace of mind. With our IT support solutions, you don't need to spend time researching, installing, and learning how to use the latest technology and software; yet you always have a seat at our table. Our experts provide support and cyber security services to a wide range of clients, and as such, we ensure that they are fully up-to-date, equipped with the latest technologies and trained in their use.
Managed IT services Macclesfield – remote IT support
We provide managed IT support services at CARA Technology, but what does that entail? What is a managed IT service?
A managed service is a proactively managed and monitored version of an IT Solution, IT Support, Anti-Virus Software, or Data Backup. Managed IT provides better quality, more reliable support service, delivering a service you can rely on.
At CARA Technology, our IT support services operate proactively rather than as a reactionary firefighting solution. We understand the vital importance IT plays in the modern world. It's of the utmost importance that performance and reliability are maintained; cybercrime poses a significant risk to businesses in all industries and sectors. The old saying goes, prevention is always better than a cure and the same rings true for IT support. It's always far better to prevent a data breach than put the pieces back together after a security flaw has been exploited.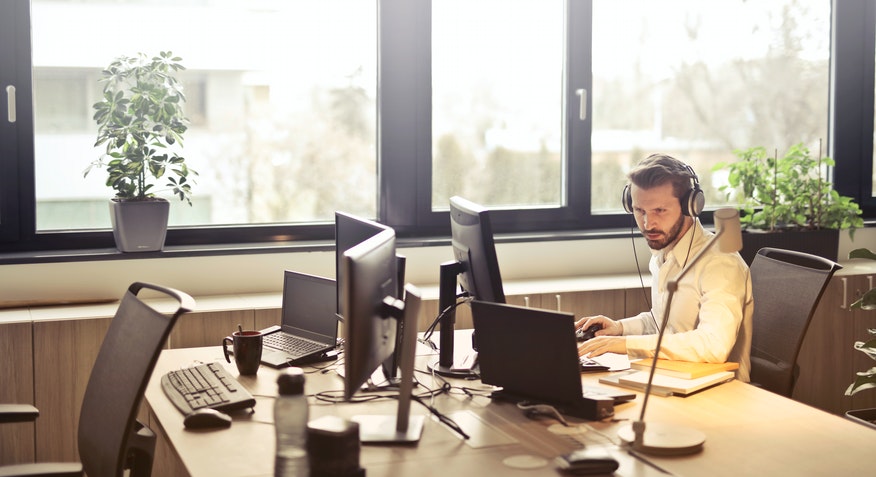 Since we started trading in 1991, we've developed into a team of passionate, experienced, and hard-working IT service professionals. We will not accept anything short of complete customer satisfaction in every aspect of the customer journey.
If you're interested and want to learn more about our managed IT support services, you can speak to a representative by calling
01625 615384 or emailing info@cara.uk.com.
---