Affordable IT support company in Manchester
---
CARA Technology is a unique specialist team dedicated to providing high-quality Manchester IT support. For more information regarding our IT support Manchester solutions please don't hesitate to call 01625 615384.
I used the Cara helpdesk and once again they were proficient, helpful and professional. They dealt with my problem immediately, without any fuss and sorted me in no time. A great service and one that always delivers.
Maria Torres-Bryceland
30/10/2023
I use CARA Technology for both outsourced IT support and Cyber Security. The team are always professional, helpful and super efficient. I have called recently with some challenges I faced on my laptop and nothing is ever too much trouble. They have also helped me achieve Cyber Essentials status, the process was very simple but incredibly robust. The pre-audit highlighted areas for development and I felt so supported during the process. I would highly recommend CARA to anyone and will continue to do so to my contacts and customers. Thank you to the whole CARA team for always putting your customers first and being such an invaluable partner.
I was working remotely at home yesterday and had problems using dual screens, and with the sound on my laptop. Our IT department referred me to Cara, and Dan Braddock was able to remotely sort both issues quickly and very capably whilst I was on the phone. Highly recommended.
Davidm8 Miller
24/05/2023
Have worked with CARA technology for a number of years now and have found them to be professional and knowledgeable around IT security and are always quick to action any areas that require to be set up in a timely manner.
Cara Technology is always there to support us when we need them, from phishing emails to not being able to view attachments in emails. There's always someone available to help and the entire team are friendly and professional.
Cara Technology are very efficient and supportive. I had a problem with my frozen computer and mouse not working. I contacted them by phone and was answered immediately. I was asked to tell them what was wrong and what I had done to solve the issue. They remotely logged into my laptop talking me through what they were doing. Harrison was very polite and informative. He worked efficiently and quickly ascertained that is was the mouse that was not working properly. Within 10 minutes my computer and mouse were working again. Thank you for your quick response and efficient results to fix it.
Karoline Peach
05/05/2023
Always a swift response and excellent service from the team at Cara. They know their stuff!
Very supportive, helped to get to the bottom of the problem and continued to follow up the issue after the call due to needing further investigation.
Danielle Clarke
19/04/2023
Great support, nothing was to much trouble. I was having issues and they found a solution and help me every step of the way.
We've been really impressed with the support we've had from the team at Cara. Day to day issues are dealt with promptly and they once got us out of a real hole when our wired network failed! Highly recommended
Regardless of the size of your business, it's of the utmost importance that your company has dedicated IT Support Solutions in place to ensure the smooth running of your daily activities. CARA Technology work with our customers as an extension of their business to understand, analyse, propose and deliver appropriate IT solutions and services.
How much does Manchester IT support cost?
Economy of scale means that our investment in our Managed Services Platform filters down to our clients at a great value, what we call our "small seat at a large table "benefit. Our managed service and support packages start from as little as £10 per user/month.
IT support in Manchester – IT service desk Manchester
IT support is an essential component of business in the 21st century. It's a simple fact of life that on an increasing basis, business is moving digital. Once solitary brick-and-mortar shops have now embraced the digital revolution. Regardless of your digital preference, eCommerce, brochure websites, or digital storage and management systems assist in running your brick-and-mortar business. If you incorporate digital technologies in your working activities, you need a support solution; otherwise, you risk the security and integrity of your data.
It's also important to remember that if you store any sensitive customer or employee information on your digital systems, you must keep this data in compliance with GDPR and DPR regulations. We understand that many can find these regulations confusing and complex, and that's okay. At CARA Technology, we provide IT support and security services, ensuring that your business is as safe as reasonably practicable.
A managed service is a proactively managed and monitored version of an IT Solution, IT Support, Anti-Virus Software, or Data Backup. Unmanaged IT is unreliable and expensive as indeed any kind of response-only-service tends to be. Our investment in a comprehensive IT and Security infrastructure gives our clients peace of mind for an affordable monthly fee. You know that with CARA Technology managed IT support, you have a seat at the table, with easy access to experienced IT experts, ready to help you with any of your IT queries and questions.
Relax with CARA Technology – Manchester IT company
IT systems can feel like magic when everything is working as it should. Still, the frustration can be intense regarding error messages, security breaches, or just computer systems that aren't fit for purpose.
Just consider how much data you deal with regularly. You'll likely interact with payment details, customer information, bank accounts, employee and client details, and more in your daily business activities.
This information is very important to protect; it's valuable to criminals and those with ill-intent, ranging from dangers as innocuous as targeted junk mail to more significant hazards such as theft, fraudulent purchases, or identity theft; the list goes on.
Working with CARA Technology provides peace of mind, allowing your business to relax and focus on your everyday operations, safe in the knowledge that experienced CARA support staff are only a phone call away should you need their assistance.
Manchester IT support companies – Advantages of outsourced IT support in Manchester
Many would argue that in an ideal world, every company would have its own in-house IT support team dedicated to smoothly running the business's digital assets. However, outsourcing has many significant advantages compared to in-house IT support services. For example, many in-house teams focus on reactive network defence and IT maintenance approaches. As such, by outsourcing your IT support, you can rest assured knowing your staff will utilise the latest technology and expert insight to prevent problems before they arise in the first place.
To provide an equivalent service in-house, you need to hire several experts from a wide range of backgrounds, with numerous specialist IT skillsets. However, hiring an experienced and specialised IT support team can cost significant time and money, two precious resources many businesses cannot afford to spend when building and equipping a team of IT specialists. On the other hand, outsourcing offers a more cost-effective solution, allowing companies to benefit from the experience of dedicated IT support staff without needing to retain their in-house team.
Another advantage of outsourced IT compared to an in-house team is the above mentioned peace of mind. By choosing IT support services from a team of dedicated experts such as CARA Technology, you don't need to spend time researching, installing, and learning how to use the latest technology and software. Our experts provide support and cyber security services to a wide range of clients, and as such, we ensure that they are fully up-to-date, equipped with the latest technologies and trained in their use.
CARA Technology, IT company Manchester – IT service providers
The old saying goes, prevention is always better than a cure and the same rings true for IT support. It's always better to prevent a data breach than clean up and put the pieces back together after one. That's why our IT support services operate proactively rather than as a reactionary firefighting solution. As experienced IT professionals, we understand Information Technology's vital role in modern business. It's of the utmost importance that performance and reliability are maintained; after all, cybercrime poses a significant risk to companies in all industries and sectors.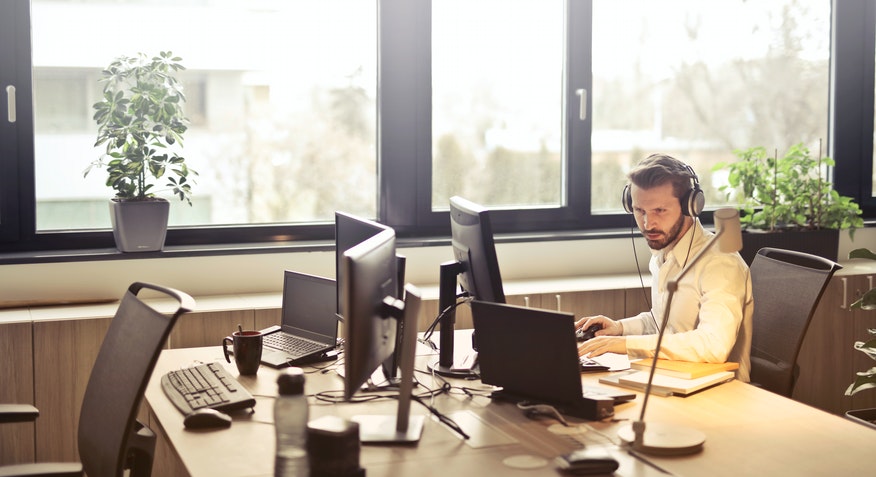 We understand the importance of our client's data and recognise cybercrime's significant threat, constantly striving better to protect our client's data and associated backups. Maintaining performance, reliability, and cyber hygiene is core to everything we do. Our mission is not complete until our clients are happy with the service we provide. We do not accept anything short of complete customer satisfaction in every aspect of the customer journey.
Is it time to switch your IT support provider? Managed IT services Manchester
Almost every modern business requires technology to function in daily society. Suppose you're experiencing downtime and delays due to either unresolved IT issues or taking significant time to resolve them. In that case, that's a sign that your IT solution isn't performing at the level you require. As such, you should seriously consider switching IT support providers.
It's a common misconception that switching support providers is too stressful to be worthwhile, but that's simply not true. Using our simple three-step process, CARA Technology makes switching managed IT support providers simple. Our switch process is so easy to follow that we take on an average of two new clients each month.
Our three-step-process is as follows:
Provide handover documentation to your existing provider
This is the 1st item
This is the 2nd item
Conduct a detailed scan of your computer systems
This is the 1st item
This is the 2nd item
Get to know your business, personnel, and company ethos
This is the 1st item
This is the 2nd item
IT services Manchester – CARA Technology
Since trading in 1991, we have continually developed our expertise and knowledge base. We're a team of passionate and hard-working IT service providers and can deliver a wide range of IT services to our clients. In addition to our above-mentioned IT support services, we also provide:
Cyber Security
Digital threats come in all shapes and sizes, posing many threats. Our cyber security experts are on hand to ensure that our clients have good protection measures. We have a detailed process to protect our clients from cyber security threats; we refer to this as practising good cyber hygiene. For example, many people believe that cybercriminals target their victims specifically; however, this is not the case. In practice, most cyber-attacks start with opening a malicious, non-targeted email, similar to spam but with a dangerous consequence.
We even have a cyber hygiene questionnaire that helps you understand how exposed your organisation is to attacks from cybercriminals.
Backup & Disaster Recovery
Simply put, every business must have a backup plan. Regardless of how well you have trained your team and how significant your system protection plan is, there is no substitute for having a robust data backup and disaster recovery plan.
For example, many businesses use remote cloud storage solutions, such as Microsoft, Dropbox and Google. However, whilst these providers are responsible for providing a platform to store your valuable data, they have no responsibility for the data itself. Whilst it is true that they have rudimental systems for recovering missing data, these systems are limited in functionality and timeline.
Cyber Awareness Training
Through regular cyber awareness training, you can provide your employees with the knowledge they need to minimise the likelihood of being a cybercrime victim. After all, social engineering and phishing emails all rely upon human error.
Our training courses utilise easy-to-consume content with interactive tests. Our team will imitate cyber criminals by sending simulated cyber attacks to your business, allowing the team to see the progress made.
Manchester IT support companies – Outsourced IT service desk
So why should you choose Cara over the numerous Manchester IT support companies? What makes our services better than the competition?
At the core of what we do is a desire to establish long-term, mutually beneficial relationships with our clients, we do this by investing significantly at the beginning of the relationship ensuring that our clients get the best possible level of service. We have continually delivered this service for many of our clients since we started trading in 1991, a testament to our strategy of developing long-term relationships.
We understand that outsourced IT can have a negative stigma. Often seen as unpersonal or less enthusiastic towards your IT support needs. However, we at CARA seek to change this. We don't see you as just another client. We work in partnership with you, building strong relationships with our clients; we see ourselves as your IT support department.
With CARA Technology resolving your IT issues is as simple as a phone call to our team. Implicit in everything we do is a focus on delivering unparalleled excellence in customer service. We refuse to accept anything short of complete customer satisfaction in every aspect of our customers' journeys. We understand the value that our clients place on their data. Therefore we will always use industry-leading technology to ensure the integrity of the data, and associated backups are never compromised.
With most businesses fully reliant on their IT systems, you must have proactive IT support in place; when was the last time you had an IT audit? Book your no-obligation consultation today. If you're interested in learning more about the IT services and support solutions available from CARA Technology, please don't hesitate to contact our friendly and dedicated team.
You can speak to a representative by calling
01625 615384 or emailing info@cara.uk.com.
---